Buy/Sell Cheap Data Bundles, Airtime, Bulk SMS, Bill Payment For Discount Price
(MTN, GLO, 9Mobile & Airtel),Buy Airtime at a good Discount, Send Bulk SMS, Make Bill Payment(DSTV, GOtv, Startimes, Electricity/Nepa Prepaid Meter) For Discount Price.
Also Trasfer your money to any Nigerian bank in 5 Seconds. Refer others to richmaxservices.com and earn mouth watering referral bonus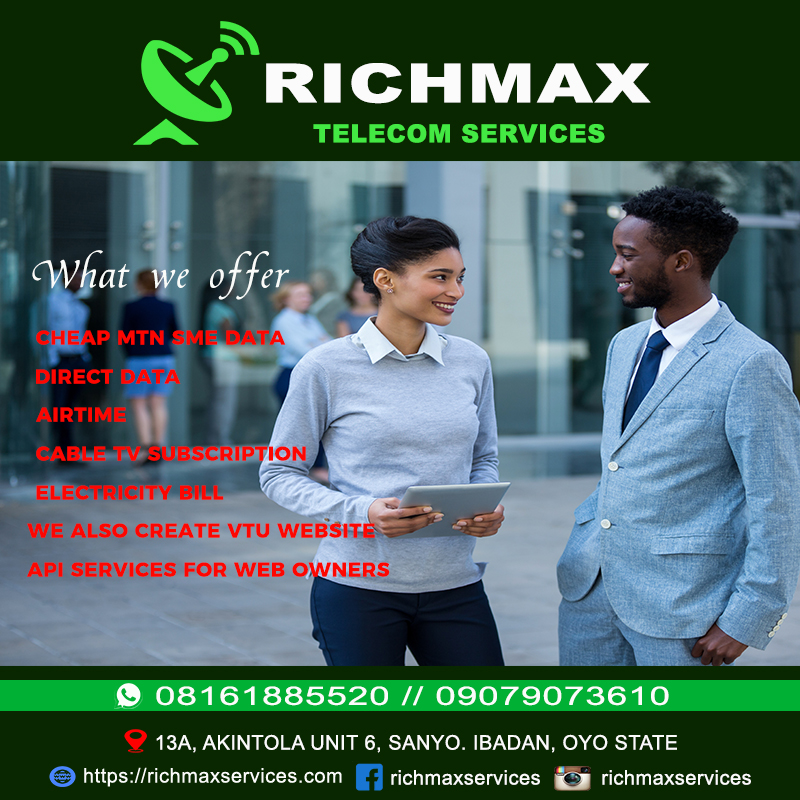 Sell data & Airtime for any network. It's cheaper, faster and reliable
How To Get Started
Create an account or Login if you already have one.
Activate your Account With Us.
Enjoy Secured and Fast Transactions
START NOW!
Richmax Telecom Services
richmaxservices.com is owned by Richmax Telecom Services. Our Mission is to deliver Cheaper, Subsidized Mobile Data, Airtime, and Bill Payment at wholesale prices in the quickest and most convienient way possible.
Our Services are
Automated
Richmax Telecom Services offers fully automated and fast services with realtime notification feature and also bulk transation set irrespective of the transaction.
User Support
At Richmax Telecom Services, we're dedicated to making our customers happy with rapid attention. If you have a question or concern, you've come to the right place.
User Friendly
With our sleek interface you can carry out your transactions effectively and efficiently without unnecessary distractions or complexities.
Pickup the right pricing plan for you.
Our plans are designed to meet the requirements of both personal
and enterprise. Get the right plan that suits you.

MTN DIRECT
1.5GB = ₦900
3GB = ₦1350
4.5GB = ₦1800
6GB(7 DAYS) = ₦1350
6GB = ₦2250
8GB = ₦2700
10GB = ₦3150
15GB = ₦4500
20GB = ₦5400
40GB = ₦9000
75GB = ₦13500
120GB = ₦18000
At Resellers rate only
Get Plan

GLO
1.31GB = ₦430
2.9GB = ₦860
4.1GB = ₦1290
5.8GB = ₦1720
7.7GB = ₦2150
10GB = ₦2580
13.25GB = ₦3440
18.25GB = ₦4300
29.5GB = ₦6880
50GB = ₦8600
93GB = ₦12900
119GB = ₦15480
138GB = ₦17200
At Resellers rate only
Get Plan

9MOBILE
500MB = ₦350
1.5GB = ₦700
2GB = ₦840
3GB = ₦1050
4.5GB = ₦1400
11GB = ₦2800
15GB = ₦3500
40GB = ₦7000
75GB = ₦10500
At Resellers rate only
Get Plan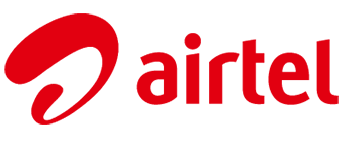 AIRTEL
750MB(2weeks) = ₦450
1.5GB = ₦920
2GB = ₦1104
3GB = ₦1380
4.5GB = ₦1840
6GB(WEEK) = ₦1380
6GB = ₦2300
8GB = ₦2760
11GB = ₦3680
15GB = ₦4600
25GB = ₦7360
40GB = ₦9200
75GB = ₦13800
120GB = ₦18400
At Resellers rate only
Get Plan
Our Partners

MTN is a telecoms company in Nigeria which provides data and telecoms services to over 200 cities in Nigeria. MTN serves over 43.89 million subscribers. MTN has invested over $1.8 billion in ensuring they provide reliable and fast internet service.

9Mobile was established in July 2017 which was formerly called Etisalat. The name 9Mobile comes from their 0809ja origin, 9mobile has about 9.91 million Subscribers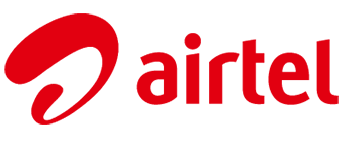 Airtel Nigeria is another strong telcom comapany, with 29.75 million subscribersas. As of 2018, $68m was invested in Nigeria's network expansion and upgrade while the country added 634 new network towers to reach 7,997 towers and 4,717 broadband base stations to reach 10,369 in one year.

GLO: Globacom was founded in 2003 by the second richest man in Nigeria, Mike Adenuga. As of 2017, Glo was the second most popular telecommunications company in the country. Currently, the telecoms company has over 34 million subscribers in Nigeria

SMILE: Smile Nigeria a renowed telecommunications company which offer both internet and voice service.Smile launched its 4G LTE service in Nigeria and this is currently available in 8 cities

SPECTRANET: They happened to be the first internet service provider in the country to provide 4G LTE service. Spectranet was licensed as a telecommunications company in 2009 by the Nigerian Communications Commission NCC. The company is known to provide smart and affordable 24/7 high speed internet.

DSTV: Pay-tv company from MultiChoice. Dstv has invested more than N13 billion (US$100 million) since 1994. Today, DSTV directly employ more than 300 Nigerians and have created more than 1,000 jobs for Nigerians through its Enterprise Development initiatives. DSTV is the first in Nigeria to launch a digital dual-view decoder; the first to commission a fully "made for Africa" African channel (AfricaMagic); the first to commission a Direct-to-Home (DTH) television uplink facility in Nigeria.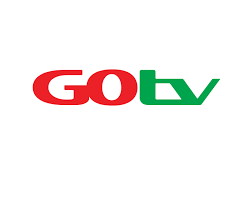 GOTV: GoTv Nigeria is the fastest growing pay TV in Nigeria, committed to delivering family entertainment to Africa. Multichoice Nigeria are the makers of GOtv. They are also the owner of the very popular DSTV pay television platform. GOtv is also available in Zambia where it's called GoTv Zambia.
Contact Us
We would love to hear from you!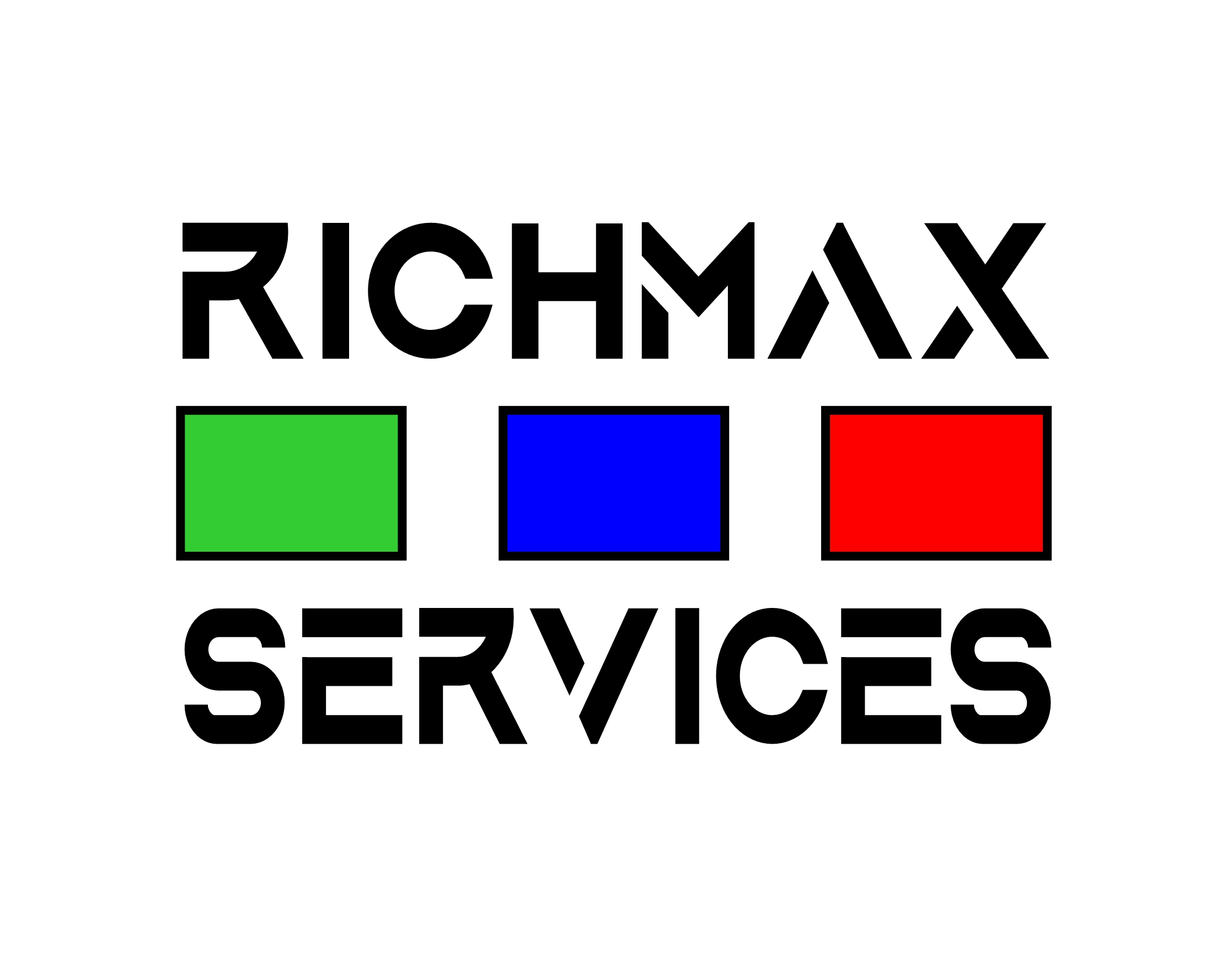 Richmaxservices App
Enjoy cheap,fast and secure transactions.
(22)